Hello my dear friends and followers!
It's been a while since my last post and it's time for some storytelling. I feel like this is the blog, which I want to update more often, but my work keeps me busy and away from it.
It will be half a year since we moved to SoCal in March, and I feel so at home here. For someone who grew up in Moscow, the climate here is just a dream come true. I see the beautiful mountains from my window. Sunny warm days and palm trees make me feel like I am on vacation.
Hollywood and LA downtown are only 50 minutes away, and I like this distance, because it keeps our town very quite and tourist-free, we don't hear police sirens often and it's very safe here.
At the same time, being a beauty photographer this distance also allows me to work with the Los Angeles talent, and I have been lucky to have access to some beautiful local models through my agency Aston Models in Beverly Hills (which also represents me).
PERSONAL WORK
When I was in Italy with my photography and retouching seminars and workshops, a local Makeup Artist Germaine Nichols approached me via email and offered to "play" together, shoot something beautiful. We met up in a coffee shop somewhere in Los Angeles suburbs after I got back from Italy, and I was amazed by how beautiful she was! A beautiful person, inside and out, who also has a great taste for beauty photography and makeup. She is a highly skilled MUA with 10 years of experience, an LA local, worked on music videos, commercials, photo shoots and films and has an impressive list of clients. She is also represented by an LA talent agency, and is just a very sweet and honest person. What else can a photographer dream for?
So far we've only had a couple of shoots at my place, but both times I've seen Germaine at work, and I love how skillful and creative she is. Here are some of the home-made shots we've created with our beautiful and talented girls from Aston Models:
And there are tons of looks and shots for me to retouch still:
Los Angeles Fashion Magazine
A couple of weeks after we moved to SoCal I received an email from the Creative Director of LA Fashion magazine, Matthew Mitchell. Within a week we met at the LAFM studio in downtown, and Matthew convinced me to plan a shoot within two days from my arrival from Italy in November. I was a little worried as to how I'd physically handle that after two intense weeks of work in Italy, and I'd probably still be jet lagged. But everything worked out just fine, and we ended up shooting a beautiful jewelry editorial for the December issue with Amanda of Photogenics, one of the leading modeling agencies in Los Angeles.
We ended up changing the background color from purple to blue, because the cover story of the issue was also shot against purple. But either way – I love these images! These are my most favorite ones:
Salton Sea Trip
Ever since we started planning to move to Southern California I wanted to go check out the Salton Sea area. That place has an interesting and a little creepy history, just what I like!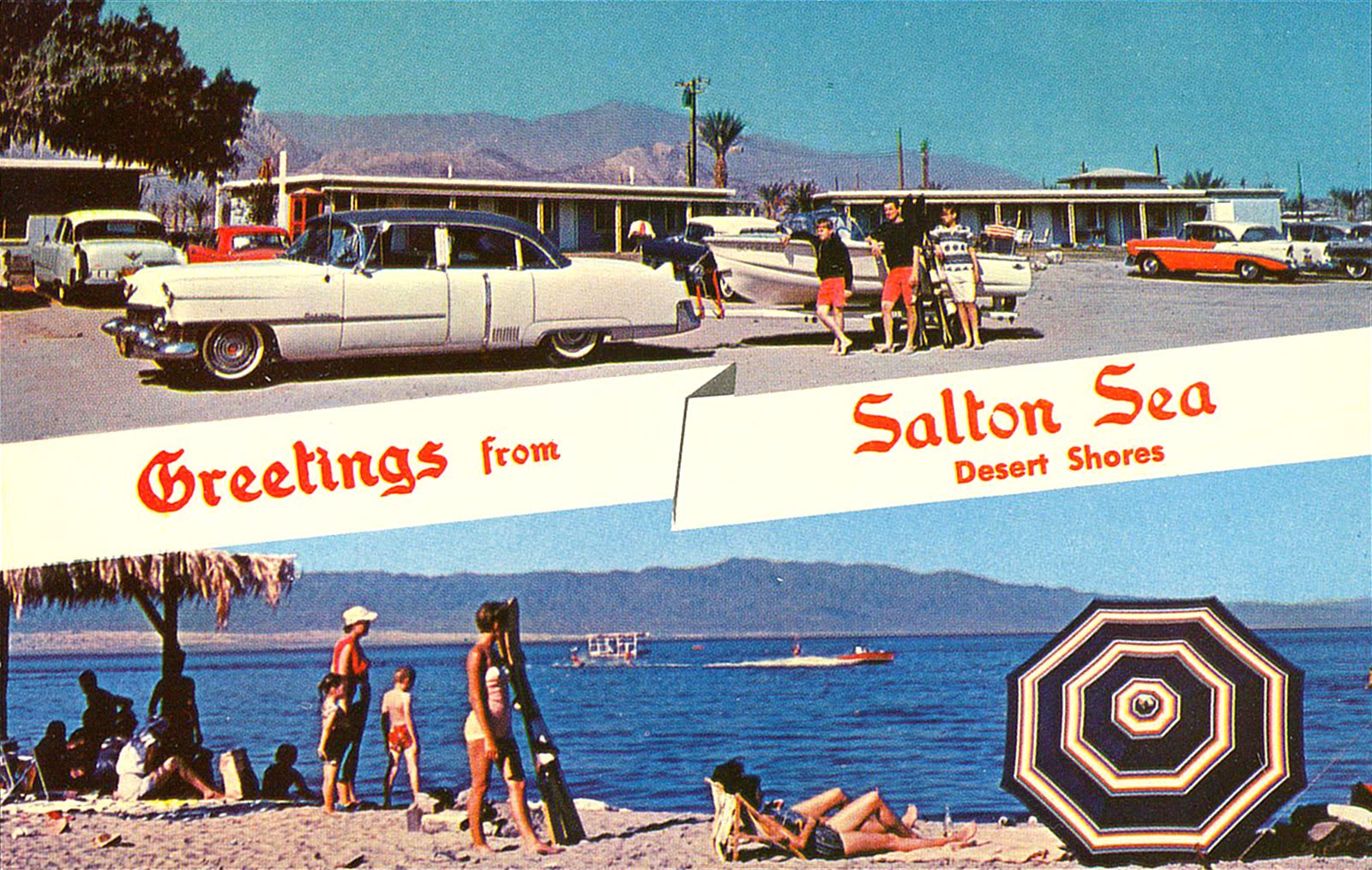 And in the beginning of December a few local creatives and I started planning a shoot there. We've researched the area and agreed to meet at the abandoned North Shore Yacht Club. The amazing Fashion Designer Michelle Hébert, who turned out to be my neighbor, lent me a few of her gorgeous gowns for the shoot, and I drove for a couple of hours to the Salton Sea on a Sunday morning.
When I arrived and met with our model Betty, we realized that my car was bleeding all types of colorful and oily liquids. I sensed something bad was coming my way, but we started our shoot and I just hoped I'd somehow get back home and take care of my injured car later. I had hit a truck tire on a highway a week prior to that day, so I knew it was quite possible that the damages were serious.
We shot all day and I just loved the area and the feel of our photo shoot.
Unfortunately, my day was ruined when I headed back home and realized that my car was definitely acting weird. It started rolling back when I stopped on a hill, while it was still on Drive.
Forty minutes into the trip, after it got dark and really busy on the I-10 highway leading to Los Angeles, my gas pedal stopped responding completely. Needless to say a loud thought of a near car crash crossed my mind. Luckily, the drivers in the right lanes behind me allowed me to roll off the road and my Mustang completely died in front of a bridge with a seductive sign Hot Desert Springs / Palm Springs.
Thanks to AAA Roadside assistance I got towed to the Ford Service Center in Palm Springs, and my husband picked me up within an hour. Two weeks and $6,000 dollars in repair later I got my car back, and I still have mixed feelings about that photo shoot… that's why it is still unfinished.
More Shoots & Happenings
I've also had the privilege to photograph Miss Philippines 2012, First Runner Up at Miss Universe, Janine Tugonon in Beverly Hills.
Participated in Mike Kelley's awesome PanAm photo shoot as a friend, fellow Fstoppers writer and a consultant. That's me by the window with a fake drink 🙂
At that photo shoot I've learned from Mike about the CamRanger device and purchased it right after. I am not affiliated with the manufacturer of the device, but I have to say this is the best photography equipment I've invested my money into in the past couple of years!
It's a tethering device that you can hook up to your camera and tether to as many computers or tablets or smartphones on set as you like. I just had a big photo shoot for a Los Angeles based hair product company called Pravana, and I've installed the app onto my client's iPad, so that all decision-makers could look through the images as I was shooting them without having to peek into my camera and distract me from my work. They could scroll through the images back and forth, zoom in, and discuss whatever corrections were needed for hair, makeup, lighting, etc.
Tethering into an iPad was awesome. The device works well and the app too. It did crash a few times, but once you get back in, it allows you to re-load the whole session from the memory card that's in the camera. Oh and you can also change your camera settings and trigger your shutter from the app. And you can also set it to Client's Mode and then your client won't accidentally change your settings or release the shutter.
This is what the app looks like on my iPad mini (shooting in my living room):
Highly recommended! You can read Mike's review on it here: Fstoppers Reviews The CamRanger: The Best Thing To Happen To Shooting Tethered…Ever.
And here's some BTS shots from my recent shoots and events I've attended:
I had the honor to attend The 2014 Beautymaker Awards by Beauty Entertainment magazine in Hollywood as a guest of the amazing Sherri Jessee (in the center below), the Editorial Stylist of the Year 2013 (NAHA), and her friend (and now mine too), English hairstylist and salon owner from Orlando, Florida Janie Tongue:
And right there I also bumped into our model Carolina – she was, hands down, the most beautiful model at the event:
And we also had another photo shoot for Pravana for their new upcoming promo campaign. It was so awesome to see my work all over the place at their offices and studio – I have shot Pravana campaigns before and I've also been doing some retouching work for them as well.
It was so cool to walk into the new Pravana offices and see myself in the video that runs non-stop on the wall in the visitors area. And there are a couple of shots I photographed for Pravana right under the screen too 🙂 FUN!
And right now Alexey Dovgulya and I are focusing on our Beauty & Fashion Photography: Go Pro! digital book, and we're hoping to release it soon! If you would like to be notified and receive the release week discounts, make sure to sign up to our Newsletter at the bottom of the ebook page.
There's still a lot of work before it's done, but you can take a peek at what it looks like now:
All my new digital books are being created in InDesign and look gorgeous already. You can click on the images below to see how clear zoomed in type looks 🙂